Searching for a scholarship to study a masters degree in UK fully funded? The AHRI masters scholarship fits that description.
Applications for 2022/2023 Africa Health Research Institute (AHRI) masters scholarship are now open. This scholarship is available to study a one year taught MSc degree at University College London (UCL), UK.
Successful recipients will study an MSc on this scholarship from September 2022 to September 2023.
Meanwhile, you should bear in mind that the AHRI masters scholarship is specifically for applicants whose academic degree and study interest are related to Africa Health Research Institute research areas.
What's on offer?
AHRI masters scholarship is fully funded. The award covers the following costs:
Full MSc tuition fees at University College London.
A round-trip economy air fare to and from the UK.
A monthly stipend to cover housing and living costs for 50 weeks.
National Health Service (NHS) surcharge and Tier 4 visa costs.
Full list of public universities in UK 2022
Who can apply?
To be eligible for this scholarship, you must:
1. be based in the eligible country below at the time of applying.
2. hold a valid passport by the time you're applying.
3. have an Honours degree equivalent to a Bachelor (Honours) degree with Second Class Division 1 Honours or 70% in an appropriate subject.
4. Be ready to be in London UK to start your MSc course in September 2022.
Women are encouraged to apply for this scholarship.
How about nationality?
AHRI masters scholarship is open to applicants who are permanently based in South Africa.
List of cheapest universities in UK for masters degree (2022)

17 masters scholarships in UK 2022 | Study in UK fully funded
How to apply for the scholarship
You can apply for this scholarship online. On the application page, you'll be required to upload:
academic transcript
copy of your CV
Please complete the AHRI MSc scholarship application form.
When's the deadline?
The scholarship application closes by 5pm on Friday 1 April 2022.
Looking for a different scholarship?
STAY AHEAD
Receive information on the latest funding opportunities in your inbox: drop your email here. Follow Wesyc Edu on Facebook and Twitter for the latest scholarships.
Have a question concerning this scholarship? Please leave a comment below.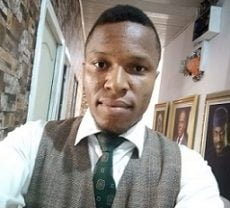 Maxwell Tega has a passion for showing people hope. He has nearly a decade experience helping people make key decisions on education and career. You can find him almost everywhere on this site, from answering admission and scholarship questions to creating tutorials. Connect with me on Facebook and Twitter.