International students from several countries are invited to apply for the Australia Awards for study commencing in 2022.
The Australia Awards scholarships provide opportunities for international students from developing countries to undertake study at Australian universities and other tertiary institutions.
Find the full details of this award in my explanation below.
What's on offer?
Australia Awards are fully funded scholarship for the whole duration of your course(including introductory preparatory program). The award cover the following costs:
– full tuition fees;
– return air travel – payment of a single return, economy class airfare to and from Australia, via the most direct route;
– establishment allowance – a once only payment as a contribution towards accommodation expenses, text books, study materials;
– Contribution to Living Expenses (CLE) – a fortnightly contribution to basic living expenses paid at a rate determined by the department;
– Introductory Academic Program (IAP) – a compulsory program prior to the commencement of formal academic studies covering information on living and studying in Australia;
– Overseas Student Health Cover (OSHC) for the duration of the award (for award holder only)–provided to cover the scholar's basic medical costs (with the exception of pre-existing conditions);
– Pre-course English (PCE) fees–if deemed necessary PCE may be available for students for in-country and/or in-Australia training;
– supplementary academic support may be available to ensure a scholar's academic success or enhance their academic experience;
– fieldwork (for research awards and Masters by coursework which have a research component where fieldwork is compulsory) may be available for eligible research students for one return economy class airfare via the most direct route to their country of citizenship or within Australia.
Can I know more about this scholarship?
i. This scholarship is provided by the government of Australia through the Department of Foreign Affairs and Trade.
ii. Each year, the Australian government offers the Australia awards to international students from several countries, particularly countries located in the Indo-Pacific region.
iii. The scholarship is fully funded and covers the cost of studying for a degree at an Australian university.
iv. This scholarship is open to international students to study full time undergraduate or postgraduate course at a participating Australian school.
v. Australia Awards are the most prestigious scholarship available to study in Australia for international students.
Which programs are covered?
All undergraduate or postgraduate courses offered by any of the Australia Awards Participating Institutions are covered by this scholarship.
Which nationalities are eligible?
Australia Awards for studies commencing in 2022 is currently open for international students from the couhtries in the table below:
| | | |
| --- | --- | --- |
| Bangladesh | Bhutan | Cambodia |
| Federated States of Micronesia | Fiji | Indonesia |
| Kiribati | Laos | Maldives |
| Marshall Islands | Mongolia | Myanmar |
| Naru | Nepal | Pakistan |
| Palestinian Territories | Papua New Guinea | Philippines |
| Samoa | Solomon Islands | Sri Lanka |
| Thailand | Timor-Leste | Tonga |
| Tuvalu | Vanuatu | Vietnam |
Who can apply?
To become eligible for an Australian Award, you must meet the following eligibility criteria:
1. Not be less than 18 years old at the time of starting this scholarship.
2. Not be engaged or married to an Australian or New Zealand citizen at the time of starting this scholarship.
3. Not hold or eligible to hold a permanent residency status of Australia or New Zealand by the time you are applying for the scholarship or during the selection process.
4. Not be a former holder of this scholarship, that is if you were a recipient of this full scholarship some years ago, you are not qualified to apply this time unless you have stayed in another country for at least eight years.
5. Not apply for a course lower than your academic level, for example applying for a bachelor's degree course when you already hold a postgraduate diploma, or applying for a Master's degree when you already have a PhD.
6. Not be presently serving as a military officer in your home country or any other country.
7. Have the requirements of getting a student visa.
For example, to get a student visa to study in Australia – you should have an international passport, have taken and passed English-language tests with proof, have your high school leaving certificates, and not have a criminal record.
How do I apply?
You can apply for an Australia Award scholarship any of two ways; online or by email.
Please follow the instructions below to apply.
A. Applying online
Go to the Online Australia Scholarships Information System (OASIS). When you register online, you will be required to answer some questions to establish your eligibility. You will then be given a unique registration number, username and password.
You do not need to submit your application immediately. You can set up a draft application form and update it, and your supporting documents, until the application deadline.
Once submitted, your application cannot be changed. You are strongly advised to apply before the closing date due to much traffic the application page experiences close to the deadline.
B. Applying by email
If you are unable to submit your application online, you can apply by mail. Please check your participating country profile for contact details to obtain a hardcopy application form and any other templates such as referee reports (if applicable).
Completed hard copy application forms and supporting documents must be submitted by the deadline specified by your country.
When's the deadline?
Application for Australia Awards close on Friday 29 April 2022 (AEST). For additional information, please refer to their website.
STAY AHEAD
Receive the latest funding opportunities in your inbox: drop your email here. Follow Wesyc Edu Facebook and Twitter for the latest scholarships.
Have a question about this scholarship? Please leave a comment below.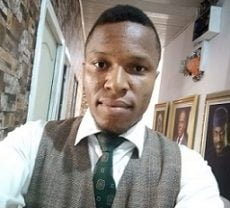 Maxwell Tega has a passion for showing people hope. He has nearly a decade experience helping people make key decisions on education and career. You can find him almost everywhere on this site, from answering admission and scholarship questions to creating tutorials. Connect with me on Facebook and Twitter.