Having a hard time finding gift ideas for your man? Who doesn't love receiving gifts, huh?
Gifting is a very thoughtful gesture, especially if it is unplanned. Even the strongest of men will break a tear when they are thoughtfully gifted.
Are you looking for what to gift that special man? You have come to the right window. Read on to find out some of the amazing things you can get for him.
First things first, is there something that your man has really wanted for a while now? He must have mentioned it randomly like during dinner, in bed or on a date.
If the answer to the above question is yes then you now know what to get for him. Men love to know that they are being listened to.
Your gift must not be expensive but thoughtful and to his liking.
This article presents you 13 gift ideas for him that will leave him in complete admiration of how thoughtful you are.
1. Perfume
A perfume is a great gift idea. It is romantic and appealing. Whenever he wears it, he will remember you and you will continue to linger on his mind all day.
2. Pair of dress shoes or sneakers
These are great because they are durable and can stand the test of time. They add unique style to his outfit and ushers in compliments.
He will surely beam with smiles having you in mind all day.
3. Wristwatch set
This is a great gift idea. Because, a wristwatch is a very unique accessory for men and it goes with literally all their outfits.
4. Customized mug/airpod case/phone pouch/towel/cufflinks
Customized accessories are very unique and they are trending as well. Your man having a customized item is not at all a bad idea.
5. Picture portrait
A picture portrait is a beautiful and somewhat sentimental idea for a gift. It keeps memories alive, and also keeps the memory of the giver implanted in the heart of the receiver for a very long time.
6. New phone
We all know that phones are a huge part of our everyday lives. So a new phone would be a perfect gift especially if he works online.
7. Digital games (play station 4 and 5)
It is no secret that men love playing games. So, a digital game is a perfect gift idea.
This will make him remember you whenever he plays video games like, GTA San Andreas, PS4, PS5, Call of Duty or Minecraft.
8. Personal computer
Most men work from home nowadays. This is as a result of the pandemic that the world is still trying to recover from.
So, a personal computer will be a really good way to aid his work. Even if he does not work from home or online, he can always use the personal computer for other reasons that he deems fit.
9. Money cake
First of all, who doesn't love money or cake? This is a very great combo, and a delicious idea.
This will definitely put a smile on your man's face.
10. Leather jacket or bracelet
Nowadays, it has become a trend for men to accessorize and take their fashion to the next level. So don't hesitate to buy him that leather jacket or bracelet that he has had his eye on for a while.
11. Fitness ring
Men love to keep fit. So never think twice before buying that fitness ring for him, especially if he loves sport.
12. Surprise party
Organize a surprise party for him. Bring together family and friends to celebrate him. You will see genuine happiness on your man's face if you do this.
13. Art works
If your man loves art then surprise him with a unique artwork that he is absolutely going to love.
Art works do not go out of style and he is definitely going to love it as a gift.
In a nutshell, below are 13 amazing gift ideas for your special man.
Perfume
Pair of dress or sneakers
Wristwatch set
Customized mug/airpod case/phone pouch/towel/cufflinks
Picture portrait
New phone
Digital games (play station 4 and 5)
Personal computer
Money cake
Leather jacket or bracelet
Fitness ring
Surprise party
Art works
Any of the above gift ideas should be chosen according to your man's preferences for it to have the desired effect on him.
Hope this blog helped open your eyes to amazing gift ideas for your man?
Receive our blogs in your inbox: drop your email here. You can also follow us on Facebook and Twitter.
Please leave a comment below this post let me know what you think. I'd like to hear from you.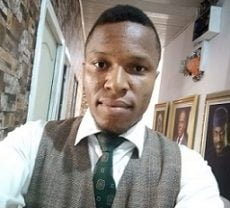 Maxwell Tega has a passion for showing people hope. He has nearly a decade experience helping people make key decisions on education and career. You can find him almost everywhere on this site, from answering admission and scholarship questions to creating tutorials. Connect with me on Facebook and Twitter.