As a graduate, you want to make it.
Everybody wants to make it, no doubt.
Who wouldn't want to?
Particularly, having gone through the huddle of higher education to obtain a degree or higher diploma, or even professional certification.
If we're to be honest with ourselves for a moment, we can tell the reason we went to school.
Among other things, education in Nigeria is to increase our earning potential, especially in a country with many uncertainties as ours.
We went to school to 'make it'.
Show me a graduate who can't earn a living or 'earn enough' to meet basic needs. I will show you an unhappy person.
It's a source of frustration.
In fact, when you observe corp members during their service year, you see they carry all rays of hope.
A hope that is expected to see them give back to their families after service to the nation. After all, they've earned the right to a living.
Unfortunately, the reverse is nearly the case these days.
The reality is, there are no abundance of jobs in this country. Get that through your head quickly!
Therefore, its common in a country like Nigeria to see graduates wait for 5 – 15 years for employment.
Where vacancies in the national newspapers are a mere formality.
Where more than ten thousand (10,000) qualified graduates apply for a job that is meant for only one person. This happen many times, too numerous to mention.
From police recruitment to n-power, local government jobs to immigration. Name it.
It becomes an intimidating task for a graduate to get his/her foot in the labour market. Making it unfortunate to see many graduates spend several years roaming the streets in search for a means of livelihood.
Because of that, I've come to the conclusion that there is no guarantee of white-collar jobs after school in Nigeria.
Knowing and accepting this reality will help you advance.
And it for the primary purpose of seeing you advance in your work, career, and make a living that I wrote this post.
More importantly, I assume you're still in school, which means this post is meant to serve as a prepare guide for you before leaving school.
Or maybe you're currently a corp member serving the country. This post will help you prepare for life after service.
But before I show you tips, let me share a toughing story that might just be all the motivation you need to keep your head up.
I was in a bus from Uyo to Calabar recently, with a much older guy sitting next to me. So we got into a conversation.
I got to know that this older guy works at the Aba depot of the Nigerian Breweries, so he shared an incident with me.
He has a colleague who recently got employment with the brewery and works in Aba as well. This guy, a university graduate, had search for job for about 7 years before getting that placement.
There was a shake-up from the headquarters and this guy, together with few others, was invited by the human resource manager, commonly known as HR.
Sadly, they were told they've been relieved of their duties.
You wouldn't believe what happened. This guy fainted on the spot.
Thank God for him, efforts to revive him were successful and he recovered and burst into tears. But then, he and few of his colleagues had lost the job.
The point of this story is the young man's response. That's just one of the many cases of near frustration for a good number of graduates.
For this reason, many Nigerians have devised a mantra; that the country is about knowing somebody that knows somebody, that even knows somebody else.
How true that is, I'm not so sure. In fact, its less important.
I'm more concerned about showing you what to do to avoid years of frustration. Because, the source of most frustration is expecting what is not there.
It is still true, you can't give what you don't have. Nigeria is not an exception to this old principle.
But what do I do? How do I start?
How to prepare for life after school
First, it's good you know there is an employment crisis in Nigeria today. Many graduates leave school every year but very few jobs are created annually.
Those few jobs are the handiwork of the private sector. Whether the political leaders have failed the people who put so much trust in them by voting them is a topic for another day.
Working in Companies
Most companies no longer employ graduates with second class lower (called 2.2).
And the reason for this is quite logical, given the huge number of graduates rolled out from Nigerian universities, polytechnics, and colleges.
Funny enough, the call for a minimum of Second Class Upper (called 2.1) for employment didn't solve the problem either.
Because, most companies still receive over 50,000 CVs at the end of a recruitment exercise.
You could imagine the number of CVs they would receive if they allowed application from second class lower and third class degree/diploma holders.
From this analysis, we see that the available jobs in Nigeria are not enough for First Class and Second Class graduates.
That is, if applications were restricted to First Class and Second Class degree holders (upper and lower) only. What is called Distinction and Upper Credit for polytechnic graduates.
In its report, the National Bureau of Statistics (NBS) have been consistent in revealing a rise in unemployment rate in Nigeria over the last 5 years.
The reality of the report?
Many qualified graduates are presently jobless.
Somehow, you know.
Is there hope?
There is therefore a need to be strategic in job search after school. Read the foregoing sentence again.
If you don't want to perpetually struggle after school, regardless of what you finished school with, start now to put pen to paper and plan your future.
If you are yet to graduate, make effective use of your service year, especially if you don't have long legs.
That is, 'knowing somebody that knows somebody that knows somebody that knows another person. And your family don't own a company or a relative isn't a politician'.
The limited jobs in top companies and government parastatal are reserved for First and Second Class Upper graduates (Distinction and Upper in polytechnics).
Except of course you're employed through a community slot. In this case, they just have to employ you.
Also, a good number of job openings are for graduates of Second Class Lower, especially in the banking sector and insurance.
There is very little hope for a Third Class graduate in the Nigerian labour market these days.
I mean, you read the job advertisements and you see the daunting qualifications they request.
Such that you begin to ask how a fresh graduate can realistically get a job in Nigeria.
Better still, consider going into business. Educate your self to be a successful business person.
Its one of the most independent things to do. Besides, ideas rule the world.
What can I do as a fresh graduate in Nigeria?
We have explained the reality, now lets take a look at what you can do going forward.
First, try to accept the old truth that school does not teach one how to be successful in the outside world. The labour market is a place where only the fittest survive.
This mean, you may need to learn new skills, cultivate new habits, and have a mentality shift.
I have prepared 12 things you can do after finishing school. It is my hope that application of these tips will help you succeed at life.
These tips are from my experiences and they have worked magic for me. That's putting it midly.
These principles have significantly changed my life.
1.  Change your thoughts
Once your thoughts change, what you do will change. This changes the results you obtain in life 'automatically'.
Every person is a product of their thoughts. You are what you think.
How do I change my thoughts? By getting new thoughts.
2.  Get a vision
We live in a world of urgency. We have been trained to get everything now.
Why save?
Why start small?
Nobody want to do that. We want the best things now.
Life is application of principles and it doesn't work that way, hence many people are frustrated.
Everything you achieve in life will require a vision first. If you can't see it, then you won't get it.
God will take you to whatever you can envision.
3.  Invest in yourself
Develop and educate yourself.
Read books. Listen to audios that inspire your soul. Watch videos that make you learn.
Employing organizations are primarily interested in finding people who ticks the box in 'management' work these days.
You might want to check out:
4.  Acquire a skill/professional certification
This is where skill acquisition programs comes handy.
Opportunities to learn are available at undergraduate level in schools and during youth service.
What does that explain? The government knows the jobs are few. So they want you empowered so you might be able to fend yourself instead of staying idle and waiting on a job.
Better still, to put you in a great position for nation building.
Employing companies particularly seek candidates who have a skill and have specialized or took training in a specific area.
5.  Build relationships
Relate with other people with great minds and share ideas. Most mega corporations today were built from relationship and partnerships.
Your breakthrough might just be lurking around the relation you chose to build.
6.  Learn to manage your time
Time is the only limited resource we have. It makes success and failure predicable.
Moreover, its easy to tell your future by the way you use your time.
Use sticky notes throughout the day to avoid choking your mind with so many things to do.
Have you ever wondered why your smart phone has a notepad?
Doing this will help you to be productive. Your ability to come up with new ideas to solve problems won't be limited.
7.  Learn to manage your resources (money)
If you lack money-management skills, all the money in the world can't save you.
I'm wondering if you've observed that the richest people in the world don't throw money around.
People like Jeff Bezoz (the world's richest man) who is currently worth over $200 billion manage their resources. You and I have no excuse to not manage.
But how do I manage my resources?
Live within your means. Each time you get some extra money, avoid looking to where you can spend it.
Instead, look to where you can invest it.
You might want to check out:
8.  Have an idea? Start something no matter how small
If you don't take steps, there will be nothing for God to direct.
Most of the big names in the business world today started small. If nothing motivates you, their story should.
Jeff Bezos started Amazon as an online bookstore. Can anything be smaller?
Today Amazon is one of the most valuable companies in the world.
There is never going to be that perfect time for you to start.
9.  Want a job?
Start with a small firm to gain experience, especially if you didn't graduate with a First Class or Second Class Upper.
Small firms are less concerned about what you finished school with.
You can always switch to a bigger firm at a later time.
10.  Be strategic in your job search.
Industries, banking, insurance sectors employ Second Class Lower (2.2) or Upper and Lower Credit graduates than every other sector.
Know where to submit your application just as you make efforts to know when companies and government are recruiting. This will help you avoid getting disappointing too often.
Before you know it, you have a job.
11.  If it gets very tough, accept a pay cut to be employed
You can be promoted after some time and be fully paid or get gainfully employed by another firm at a later time.
Volunteer at organizations where you skill or education is required. Approach companies and firms to do free internships at no pay.
You will be amazed the progress you make.
12.  Have faith
"If you think you are beaten, you are. Sooner or later, the man who wins is the man who thinks he can."
I picked that statement from a poem. Read it again and you will catch the meaning the poet had in mind.
Faith removes all limitation. Believe in God.
Believe that application of these tips to make it after school will yield positive results.
Bonus
13. You might consider advancing your career abroad
Taking a masters of PhD overseas can help push you to the pinnacle of your career or job, especially as a fresh graduate.
You may not have to travel, perhaps a distance learning might do. Check out my prepare guide on studying abroad.
These tips will help you take charge of life as a graduate in Nigeria, irrespective of your peculiar circumstance in any given field of endeavour.
Then, you will keep your head up!
I hope you enjoyed this post?
Please share it with your friends on social media. They'd be able to benefit from it. I appreciate you.
Feel free to leave a comment below this post. Or maybe there's something you'd like added to the post. I'm happy to hear from you.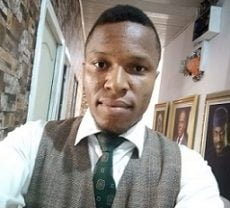 Maxwell Tega has a passion for showing people hope. He has nearly a decade experience helping people make key decisions on education and career. You can find him almost everywhere on this site, from answering admission and scholarship questions to creating tutorials. Connect with me on Facebook and Twitter.