Application has commenced for this Masters in journalism scholarship to study in South Africa by 2022.
This scholarship is provided by Canon Collins Trust in collaboration with the Mail and Guardian. The scholarship seek to support individuals who are committed to social justice for master's degree.
How much is this scholarship worth?
This Masters in journalism scholarship is provide:
i. a contribution towards your costs for the duration of your study period (R60,000 per academic year);
ii. a 12-month paid internship at the Mail and Guardian;
iii. mentorship by the highly respected Educationalist and Education Writer alumna Dr Sara Black; and
iv. an opportunity to enhance your networks, and strengthen your academic and leadership skills through organised events.
SEE ALSO:

NRF SARAO postgraduate scholarship in South Africa 2022 | apply now

Fully funded engineering PhD fellowships in South Africa 2021
Which programs does this scholarship cover?
The scholarship is awarded for a master's study in the field of journalism, media, or communication.
Which Nationalities are eligible?
The scholarship is open to citizens and residents of South Africa.
SEE ALSO:

Masters scholarships in UK 2022 | Study for masters in UK fully funded

Fully funded masters scholarship in China 2022 for international students
Who can apply?
To become eligible to apply for this scholarship you must:
1. be a citizen of South Africa resident here.
2. have a good Honours degree (minimum second class, upper division) or about to graduate in the year you're applying for this scholarship.
3. be applying for a 1 year full-time Masters degree in the field of Journalism, Communication or Media Studies at any South African university; or be already studying a 2 year course in this field.
4. be available to undertake a 12-month paid internship as an Education Reporter at the Mail and Guardian in 2023
5. preference will be given to applicants that can demonstrate a commitment to education matters in South Africa through work experience, volunteerism or as an activist.
SEE ALSO:

Application now open for 2022 CMF postgraduate scholarship | fully funded
How to apply for the scholarship
You can complete this application online through this page:
Apply for this scholarship now
When is the deadline?
Application closes on 22nd September, 2021 by 3:00 pm (GMT).
STAY UP TO DATE
Get the latest scholarship updates and announcements by leaving your email. Follow Scholarship news on Facebook for the latest scholarships.
Got questions? Please leave a comment below.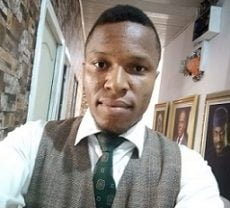 Maxwell is a Dietitian with passion for showing people hope. With nearly a decade experience helping people make key decisions on education and career, you can find him almost everywhere on this site. From answering admission and scholarship questions to creating tutorials and helping others live their best lives though nutrition. Connect with me on Twitter.