Being a graduate is one of the amazing expectations everyone on campus look forward to.
This come with the thoughts of going for youth service
having that dream job
working and exploring your field of study
getting paid for what you do and
basking in ecstasy and dream fulfilment.
If all of these could be accomplished without necessarily passing through the 4 walls of university, I bet everyone would have it.
But you need to know that the university is actually a passage to getting these things. However, while you're passing through school, there are things you should keep abreast with, which would serve as spices to both your education and career life.
That's why I decided to write this blog. It contains 6 things you should do before you leave school.
Before we get started, let me quickly give you a heads up. School is fun, no doubt. But don't allow yourself get carried away by the fun.
The things I mentioned on this article thrive best when started in school. In fact, most people whom have left school without doing these things wish they could come back. If for anything, to have a shot at these life-changing activities.
Below are 6 things you should not fail to do before you finish school.
1. Seize opportunities
There's is an adage that opportunities knock but once. A preacher once said that "opportunities of a lifetime happens in a lifetime". Hence be informed that great opportunities are not things you should toy with.
Make good use of every good opportunity that shows up your way. There are people that are making it in life because they grabbed a good opportunity while in school.
In school, opportunities come in form of scholarship programs, school debates, internship programs, industrial trainings, DIY conferences, convocation lectures etc.
Grab these opportunities when they come, you may never know which will launch you in future. It could be in a knowledge gained, the people you met, or inspiration you have. All of these come outside the classroom.
You may never know the opportunity that would fasten your way up.
Please see how to start life as a fresh graduate in Nigeria to better understand why seizing opportunities while in school is a must.
2. Learn and develop skills
I tell you that everyone was born with a talent. We do hear that knowledge is power, but I tell you that the positive application of knowledge is the actual power.
Do you have a talent? Yes you do.
What would you do with it? Leave it lying dormant? No!
Develop that skill today. Look at what you're good at, what you enjoy, what gives you joy when you do them.
Develop a skill round it while in school. It may grow into a career even before you finish school.
You don't have a skill? Learn one now! Get trained in different skills. You don't have to be one way. Get as many skills you can lay your hands on while in school.
The internet even come handy for many skills these days. Check out positive effects of the internet and be in the know.
Truth is, you would have that time for learning these skills when you're in school than when you're out. And considering the labour market and the economy of the country, any of these skills you learnt while you were in school could pave a way for you.
Here is an Eye opener: you may end up not using the certificate of what you studied in real life. Get that through your mind. The real life is the life after school.
There are several people in the world who are not using their certificates in anyway.
Look at this: you may at the same time become an employer of labour thereby reducing unemployment challenges for upcoming school leavers.
3. Work almost for free
How about getting into volunteer programs while you're still in school? Yes!
The secret is that some companies want to see how beneficial you can be to the company and to the society. However, you may not be assessed based solely on your certificate but by the volunteer programs you've been into before applying for the job.
What you see as a criteria for job offer most times is 3 years experience right? Don't tell me you haven't seen a job advert before.
How do you think you would acquire those experiences? Its by getting involved in volunteer programs.
Don't wait for companies to call for volunteers, go out and sell yourself. Get your way into the firm. You may even get retained if you're good.
If you're applying for a scholarship program to study abroad, volunteering is one of the expectations from the scholarship board.
And yes, be sincere in your services to whatever firm you work with. Your sincerity and devotion also matters.
4. Build Healthy relationships
One of my favourite quotes that inspires speaks to me is: "people are the ladder you climb to destiny."
Yes you may have all the money in the world but I tell you that you still need people. Nobody is an island.
Build a healthy relationship with your friends, your course mates. Not everybody you should date. Okay I will write on that another time.
Yesterday we wrote an article showing you how to build healthy relationships while in school and why you must. One of the tips we mentioned was, its not everyone you must date or have sexual relationship with. There is more to people than that, especially if you have a great tomorrow in mind.
Avoid stepping on people's toes too. True, its not possible to please everyone but try as much as you can to live at peace with everyone including your flat mates and neighbours.
Don't pass judgment on your fellow students because you do better at coursework or have better grades. Success is life is not determined by school grades. Don't wait till you are 50 before you know this. Know it now!
You may get a good recommendation, help or contract tomorrow from someone you met back in school. It may even be the person you concluded was dumb and has no future.
5. Take your studies seriously
Don't play with this great opportunity, remember the first thing you should do is to grab good opportunities. This is the 5th one.
Being in school to study is a great privilege, especially in a country like Nigeria when JAMB has jambed many people. I'm sure you can relate.
You don't want to start all over again. SO don't misuse this opportunity.
Inasmuch as you "may" not use your certificate after graduation, on the other hand, you "may" definitely need it. In the labour market, a good grade will push you further than a poor grade. Make good use of your study time.
Read books. Go out of your way to get academic materials on your course work.
Attend tutorials if you are the kind of student that need extra lessons, get connected with your successors. Don't forget the very aim you got admitted into that university.
Aim for the best. See how to get good grades in school here.
Be exposed to academic trainings as well. Engage in debates, academic contest. You "may" not leave school with a first class but the little things you did while in school would definitely speak for you where recognition is at work.
And if you must combine academics with a part time job depending on your situation, still put in the hours to study. Don't joke with your academics. Take it seriously like a business. In fact, it is your business right now.
Be able to balance the two together. If balancing them together is not achievable, then go for your academics.
Avoid engagements that would spoil your name and tarnish your image. Build a reputation for yourself. A good name is much better in all your life's achievements.
6. Look to save
We all know that money answers all things. I always say that "Money is an uprising, money is a downfall, but it all depends on your decisions towards it".
While you're in school is when you have all the financial attention from parents, relatives, big friends and sponsors. Read that again.
Don't squander everything given to you. Save some for the rainy day. Build a culture around your spending. Build what I call a 3D culture around your finances and here are the 3D culture:
Don't buy everything;
Don't eat everything and
Don't attend every thing.
I recommend you read up this article: How to save money at school. Thank me later.
Invest in something REASONABLE while you are in school. And before you invest in anything, REVIEW the package.
Gone are the days when people start things after school. In this century, start them now! Pin this to read: 6 surest ways to make money (and be independent) while in school.
If you intend to combine schooling with a part time job offer, be careful to define how you spend that salary. Be careful of most "get-rich-quickly" programs, it has eaten up many Nigerian youths to ruin.
REVIEW EVERY INVESTMENT PACKAGE/PLATFORM BEFORE INVESTING IN IT.
Be financially prudent!
Wrap up
Make effort to do these things before you complete school. It will pay you great dividends. The few people that followed this path many years ago are the people the society calls successful today.
Don't allow yourself be relegated to the back in life.
Stay positive at all times.
Never let the stress in your course work weigh you down. Everything is achievable if you give it a try!
See you at the top!
Hope you enjoyed reading this blog? You can also join us on Facebook or Twitter to connect with us.
Did I miss anything? Any thoughts? Please let me know by leaving a comment below.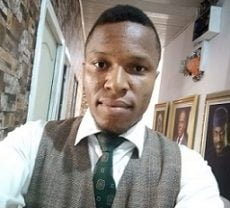 Maxwell Tega has a passion for showing people hope. He has nearly a decade experience helping people make key decisions on education and career. You can find him almost everywhere on this site, from answering admission and scholarship questions to creating tutorials. Connect with me on Facebook and Twitter.