You can study in Canada, UK, US, Australia without IELTS, TOEFL, or other English language proficiency test score.
Most international students who want to study in Canada, UK, US, or Australia often encounter the problem of English test score.
And many of our audience here on Wesyc have asked if they can study in Canada without taking an English test.
The answer is yes, and 'how is that possible' is the reason I created this post.
There is no doubt that studying abroad is a great way to achieve your future goals. And for that reason, I'm committed to showing pathways to studying in the UK, Australia, US, or Canada.
More importantly, so that nothing acts as a barrier between you and higher education abroad.
First, let's establish what is before going on to reveal what isn't.
Universities and Colleges in the US, UK, Australia, and Canada require international applicants to prove that they can learn in English.
This is because English is the language of learning in the UK, US, Australia, and most most Canadian universities and colleges. Except in few universities and colleges in Quebec province, Canada where French is the language of learning.
Moreover, you can't study at a school where you don't understand or have inferior knowledge of the language used in teaching. You would be unable to learn effectively.
And to avoid a situation where an international student like you perform poorly, proving that you can understand and learn in English is a must.
That is even before you'll be given an admission offer.
But how do I prove that I can learn in English?
There are several ways to prove your ability to speak and understand English. Though, the most popular way accepted by Canadian schools is by taking and passing approved English tests.
These include IELTS, TOEFL, Cambridge Advanced level, etc.
Therefore, having accepting scores in any English test helps you meet the English language requirement for entry into Canadian schools.
Is there another way of proving English proficiency?
Yes. And that's what this post is all about – showing you the other way.
One of the major challenge of international applicants is the English test.
For all they are good for, they're quite expensive to take. For this reason, most applicants are unable to afford it, plus application to universities.
The untold truth is that, English language requirement is specifically for international applicants who are citizens of countries where the primary language is not English.
Let me put it another way.
Taking and English test is compulsory for you if English is not the primary language spoken or used in learning in your country.
For example, if you're a citizen of Japan or China and you want to study in Canada or the US, you'll need to learn English before starting an application.
That involves passing and English test and having a minimum score required by the university.
Same applies if you want to study in Australia or the UK.
Check out Do I need to take language test to study abroad? (IELTS, PTE) to learn more about English language tests.
But I'm from an English-speaking country. Do I need to take IELTS too?
No. You don't have to.
There are many English-speaking countries around the world. Citizens of these countries don't need to prove that they can learn in English.
Why? They already understand and speak English. Moreover, they've learned in English previously at secondary or high school.
Therefore, such applicants automatically meet the English language requirement into universities and colleges in Canada. That is a view shared by most Canadian universities and colleges regarding international students.
Meanwhile, you can also check out the following resources that may be helpful to you.
How to study in Canada, USA, UK, Australia, and New Zealand without IELTS
You don't normally need to prove English proficiency to study in Canada, UK, Australia, or the USA if you are from one of the following English-speaking countries or territories.
Plus, you have learned previously in English at secondary school (at least four years) in your country.
If that best describe you, then you may qualify for an exemption from taking IELTS, TOEFL, or any other English test.
1. Anguilla
2. Antigua and Barbuda
3. Australia
4. Bahamas
5. Barbados
6. Belize
7. Bermuda
8. Botswana
9. British Virgin Islands
10. Canada
11. Cameroon
12. Cayman Islands
13. Dominica
14. Falkland Islands
15. Fiji
16. Gambia
17. Ghana
18. Gibraltar
19. Grenada
20. Guam
21. Guyana
22. Ireland
23. Jamaica
24. Kenya
25. Lesotho
26. Liberia
27. Malawi
28. Malta
29. Mauritius
30. Montserrat
31. Namibia
32. New Zealand
33. Nigeria
34. Papua New Guinea
35. St. Helena
36. St. Kitts and Nevis
37. St. Lucia
38. St. Vincent and the Grenadines
39. Scotland
40. Seychelles
41. Sierra Leone
42. Singapore
43. Solomon Islands
44. South Africa
45. Swaziland
46. Tanzania
47. Trinidad and Tobago
48. Turks and Caicos Islands
49. Uganda
50. United Kingdom (UK)
51. United States of America
52. Vanuatu
53. Zambia
54. Zimbabwe
NOTE: If you are not a national or resident of any of the countries in this list, then you need to prove proficiency in English as part of the requirement to study in Canada, USA, UK, Australia or New Zealand.
And if you are from an of the countries mentioned above, you have one barrier down in your quest to study in the UK, Australia, Canada or the USA as a citizen or permanent resident of any of those countries.
However, there are other things you might need to ready. Please check out this guide to learn how to study abroad.
But if you're not from any of the countries mentioned, and English test score is one of the required documents to study abroad. Make sure to get it ready.
Hope you liked this blog?
STAY UP TO DATE
Get the latest scholarship updates and announcements by leaving your email. Follow Scholarship news on Facebook for the latest scholarships.
Got questions? Need more information? Please leave a comment below.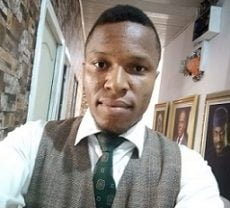 Maxwell Tega has a passion for showing people hope. He has nearly a decade experience helping people make key decisions on education and career. You can find him almost everywhere on this site, from answering admission and scholarship questions to creating tutorials. Connect with me on Facebook and Twitter.