The Rangel Graduate Fellowship program is one of the most prestigious awards for students to undertake graduate studies in the United States and implement U.S foreign policy among other role.
The program is intended to prepare young vibrant people for careers in the Foreign Service of the U.S. Department of State.
Rangel Graduate Fellowship is awarded annually and the program support recipients to undertake two years of graduate study, internships, mentoring, and professional development activities.
Interestingly, Fellows who successfully complete the Rangel Graduate Fellowship program will receive appointments as Foreign Service Officers.
According to the award providers, those who have successfully completed the Rangel Fellowship Program are currently making a difference outside the United States in countries such as Nigeria, South Africa, Angola, China, Bangladesh, Ireland and others.
NRF SARAO postgraduate scholarship in South Africa 2022 | apply now
How much is this scholarship worth?
In 2022, the Rangel Graduate Fellowship Program plans to award 45 fellowships of up to $42,000 annually for a two year period.
This amount is designed to cover tuition, room, board, books, and mandatory fees for completion of a two-year master's degree. This includes up to $24,000 per year for tuition and mandatory fees and an academic year stipend of $18,000.
Which programs does the scholarship cover?
You are expected study for a degree in international affairs or another area of relevance (such as Public Policy, Business Administration, Political Science, Public Administration, International Relations, Economics, Foreign Languages, Political Science, or History). Studies in law do not satisfy this requirement.
You are expected to apply to study any of these courses at a graduate or professional school approved by the Rangel Program.
Which Nationalities are eligible?
The Rangel Graduate Fellowship Program is open to U.S citizens.
Other opportunities:
Fully funded engineering PhD fellowships in South Africa 2021

Banting postdoctoral fellowships in Canada 2022 | how to apply
Who can apply?
To become eligible, please confirm that you meet the criteria below.
1. Must be seeking admission to enter graduate school in the fall of 2022 for a two-year program at a U.S. university in an area of relevance to the Foreign Service (as mentioned above).
That means you can either be in the senior year of your undergraduate studies (graduating by June 2022) or a college graduate.
2. Must have a cumulative grade point average of 3.2 or higher on a 4.0 scale at the time of applying for the Rangel Program.
2022 Marshall scholarships to study for postgraduate in UK | fully funded
How to apply for the scholarship
You are required to apply to a two-year graduate program at a U.S. university simultaneously with your application to the Rangel Graduate Fellowship Program.
Please apply for the fellowship here: Rangel Graduate Fellowship Application.
When is the deadline?
The closing date to apply for this scholarship is 11:59 PM (Eastern Time) of Wednesday September 29, 2021.
STAY UP TO DATE
Get the latest scholarship updates and announcements by leaving your email.
Check out other scholarship available in U.S 2022:
Fully funded Hubert Humphrey fellowship in USA 2022 | how to apply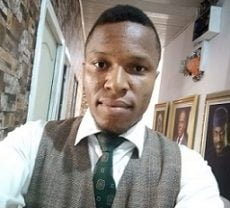 Maxwell Tega has a passion for showing people hope. He has nearly a decade experience helping people make key decisions on education and career. You can find him almost everywhere on this site, from answering admission and scholarship questions to creating tutorials. Connect with me on Facebook and Twitter.