Hi Wesycians, this is yet another opportunity for our PhD students.
The Aston Institute for Forensic Linguistics is currently accepting application for its 2022 fully funded PhD scholarship. This programme will commence by September 2022 and will  run through a period of three years.
So International PhD students are highly recommended to apply. So even if you are not eligible for it, inform your friend, neighbour, family member or even school mate and tell of this unique opportunity, cos it will be of great help to someone out there.
You'll also be able to prepare a complete application ahead of the next application window.
Carnegie PhD scholarships to UK 2022
It is pertinent to note that Successful candidates will undergo a wide range of training opportunities from AIFL. However, as a PhD applicant, you will be required to respond to one of this two research area outlines which include;
The centre for forensic text analysis (CFTA).
The centre for language and law ( CFLAL) respectively.
Who can apply?
Now down to the eligibility criteria:
Each applicants are required to meet the following conditions in order to qualify for the scholarship and I hope it doesn't look tough for you all.
Below are the eligibility criteria:
be an international student.
be enrolled on a PhD program.
have ability to explore potential areas of interest, and supervisors.
demonstrate enthusiasm, diligence and organised approach, as well as,  having a research idea that matches with their departmental/ research centre expertise.
Iseult Honohan Doctoral scholarship to study in Ireland (Sept 2022)

Pierre Elliot Trudeau scholarship for fully funded doctoral in Canada 2022
What's on offer?
So now,  let me get you to know the goodies you will be carrying along when you stand a chance of winning this scholarship. These benefits include:
i. Payment of the student fees by the bursary for three years of his or her stay at the Aston University UK or International fees.
ii. A stipend of £16,000 to cover student accommodation and living costs.
iii. Finally, Payment of a conference fund worth £1, 000 PA for concerned student to attend national or international conferences.
Postgraduate scholarship in UK for African residents 2022

Commonwealth shared scholarships in UK for postgraduate (Sept 2022)
How to apply for the scholarship
For more information about the application process, you are required to contact the individual whom you have chosen as your supervisor or kindly reach out to professor Tim Grant ([email protected]).
When's the deadline?
Application closes on the 28th of February, 2022.
See you at the top! And from us here at Wesyc, it is always a thank you for keeping in touch with us.
Keep reading and keep soaring.
Looking for a different scholarship?
STAY AHEAD
Receive information on the latest funding opportunities in your inbox: drop your email here. Follow Wesyc Edu Facebook and Twitter for the latest scholarships.
Have a question concerning this scholarship? Please leave a comment below.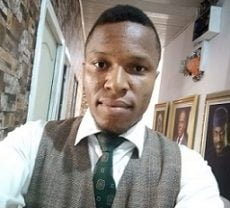 Maxwell Tega has a passion for showing people hope. He has nearly a decade experience helping people make key decisions on education and career. You can find him almost everywhere on this site, from answering admission and scholarship questions to creating tutorials. Connect with me on Facebook and Twitter.